Letter from Treasurer Ma
April – May 2019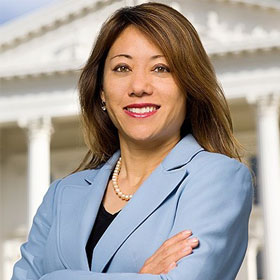 Welcome to the third issue of my newsletter! In this issue, we will be covering affordable housing.
There has perhaps never been a period in state history in which more people and resources have been aligned to address the affordable housing crisis. As State Treasurer, my housing and economic development goals are broadly to increase housing production, contain costs, spur new technologies, create more opportunities for people of color and women to participate in developments, and to support efforts that empower individuals in distressed communities to become integral to their community's revitalization.
By advancing the right combination of programs and incentives, I believe we can build wealth in our communities that will help all Californians realize the American Dream, regardless of the zip code someone lives in.
On page 2, in "Truly a California for All," Deputy Treasurer Jovan Agee explores what this means and the importance of bringing a new, creative approach to the task of supporting the state's new vision. Jovan's role is itself indicative of this new thinking. I have realigned his responsibilities to embrace strategic development for both housing and economic development because they go hand in hand.
Continuing with the affordable housing theme, on page 4 you can read in the "The ABCs of the BCA's" column about three major programs I oversee that are already providing financing and incentives for the construction of affordable housing statewide.
After reading about the California Debt Limit Allocation Committee (CDLAC), the California Tax Credit Allocation Committee (CTCAC), and the California Pollution Control Financing Authority (CPCFA), I encourage you to turn to page 6 and "Ask Fiona." I'll point you to the place on our website where you can search cities and zip codes to learn where the state in recent years has spurred construction of affordable housing.
We must not lose sight of our purpose. By focusing on efforts to create wealth in our state there is a path to building our way out of this affordability crisis.
Please keep an eye on future issues of this newsletter for updates on these efforts…and more.
In Public Service,
Fiona Ma, CPA
California State Treasurer
Click the links below to read the articles: